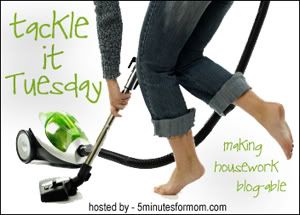 To read or participate in Tackle it Tuesday then head over
here
Tackle it Tuesday is another meme I will be starting. I hope you enjoy reading about my adventures in sifting through clutter and other such undertakings.
So today I tackled the mess that is my daughter's room. Her room is undoubtedly the catch all room. When guests are about to arrive, what do it do? I make a sweep through the house and whatever my arms can hold gets dumped into her room. That must change and to start the process I cleaned and organized her entire room.
This is our office area.
When I am too lazy to wrap up the vacuum cord and put it in the hall closet I just wheel it in Shelby's room where it sits until the next time I feel compelled to use it.
Extra diapers thrown on the floor, the laundry pile exploded, and other various things strewn everywhere.
Shelby snacking on Cheerios and happy just to watch me work.
The closet
<><><><><><><><><><><><><><><><><><><><><><><><><><><><><><><><><><>
After Pictures
I know it doesn't look all that nice but it's better than before. See that stack of books under the desk? Those are all old college text books in the process of being sold online. I will be glad to get those out of my hair.
Like the curtains? I found them at Walmart for under $20. I think they look great and I love the butterfly tie backs! (The curtains were not part of T it T. I hung them a while back.)
Here is Shelby's stero on which I play calming music for her at bedtime. Also there is her antique toy chest that was a gift from her great grandparents.
A close up of the antique toy chest.
Her crib and Jason's guitars are stored underneath because I have no where else to store them.
Crib
The bookshelf and dresser which now has neatly folded appropriatly sized clothing in it. I sorted through it and pulled out all the clothes Shelby has grown out of.
The bookshelf
The dresser
The changing table
A shelf for keepsakes
Another shelf
Here are Shelby's feet and hand prints at 6 months.
The closet
I filled the toy wagon with stuffed animals to use as a decoration.
Well, that was by big project today. I am very happy with how it turned out. Now I have no reason to hate being in her room. I now have room to throw a blanket and a few pillows on the floor and read books to Shelby. I just need to resist the urge to continue using the room as a junk yard!