To read or participate in SS then head over
here
Sunday Stealing: One Long Meme (Part One)
1. The phone rings. Who will it to be?
My Mom
2. When shopping at the grocery store, do you return your cart?
Yes
3. In a social setting, are you more of a talker or a listener?
Talker
4. Do you take compliments well?
I think so.
5. Do you play Sudoku?
No
6. If abandoned alone in the wilderness, would you survive?
Not sure
7. Did you ever go to camp as a kid?
Yuppers
8. What was your favorite game as a kid?
Chinese Checkers (for a while anyway)
9. If a sexy person was pursuing you, but you knew he was married, would you?
RUN AWAY!!!
10. Could you date someone with different religious beliefs than you?
No
11. Do you like to pursue or be pursued?
Be pursued
12. Use three words to describe yourself?
EVERY meme asks me to do this. I am sick of describing myself in one word, in two words, in three words, and so on! Therefore, I respectfully decline.
13. Do any songs make you cry?
Yes. ~Testify To Love by
Wynonna Judd~
Have you ever seen the Touched By An Angel episode when she sings it? I think that's why this song makes me emotional is partly because I think of the premise of the show which is very sad and partly because if the song itself.
14. Are you continuing your education?
Yes
15. Do you know how to shoot a gun?
Heck Yea!
16. Have you ever taken pictures in a photo booth?
Uhhhh. Nope.
17. How often do you read books?
Sadly, not much. Unless you include Woman's Day articles or college textbooks.
18. Do you think more about the past, present or future?
Future
19. What is your favorite children's book?
Ferdinand the Bull. My Dad was excellent at the voices and when it came time for Ferdinand to smell my Dad would stick his nose next to our ear and take a big whiff while he said "Smeeeeelllll the flowers." And my siblings and I would laugh because it tickled!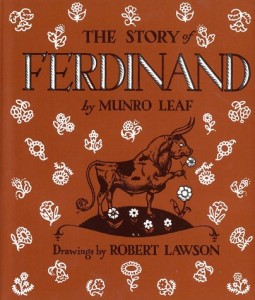 20.What color are your eyes?
Blue
21. How tall are you?
5'1" ish
22. Where is your dream house located?
Ireland
23. If your house was on fire, what would be the first thing you grabbed?
Besides my family?! My computer. It has all my pictures on it!
24. When was the last time you were at Olive Garden?
No Idea
25. Where was the furthest place you traveled today?
To church
26. Do you like mustard? Yes