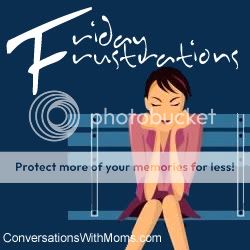 Okay, so this is a new meme. I'll give it a try, see how I like it, see how you like it, and then decide whether or not to keep it. If you want to participate in FF go
here
.
So since this is Friday Frustrations I guess I will have to let go of the positive and vent a little huh?
This week I have been frustrated with people. People who don't follow through on what they say. It's defiantly frustrating. What do you do? Do you call them on it or just let it go? Do you characterize them by the one experience or try to let it go and give them the benefit of the doubt?
Dealing with such situations got me thinking about times that I have not followed through. I guess since it's so aggravating to me I have made myself very aware and try my best not to do this to others. The times that I did think of I realized that at the time I was blissfully unaware that I was being so rude and unaccountable to someone. If I ever tell you I will take care of something and you don't hear from me and I haven't done it....please just tell me. Once made aware of it I would hope that I would be quick to apologize and then JUST DO IT!